It's impossible to discuss the Magic's struggles this season without mentioning this man: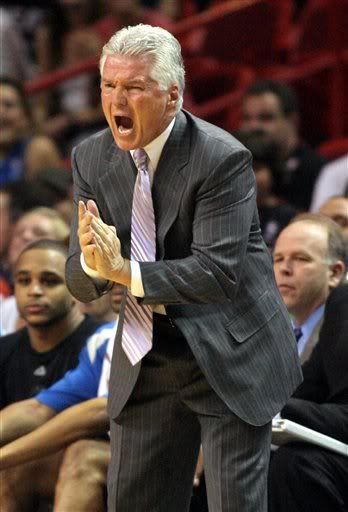 When the Magic began their downward spiral this season, fans were quick to call for the firing of head coach Brian Hill. FireBrianHill.Org was established earlier this season to unite fans against the Magic's head coach and to collect signatures for a petition calling for his removal from the organization. He was stubborn, stupid, not playing to his team's strengths, stunting the development of his younger players, etc. Even after the Magic's stunning victory against the Heat on Sunday, fans blasted Hill:

Jameer, Howard, Turco, Ariza, and Hill are great players but the coach is not to their level. To be a leader you must have a plan and we have seen none, only wish to be lucky. I once heard that " Luck was when oportunity meets PREPAREDNESS" and the Orlando Magic have faced several oportunities, and they showed not being prepared for them. Sure, it is their coach's job, to have them ready. C'mon Brian it is about time. WE ARE FUMING...

Half of the time Brian Hill looks lost as if he doesnt know what he's even doing. He was a good coach 12 years ago but now its time for him to move on...
I can't help but wonder why these fans are reacting to Hill in this manner. Perhaps he acted too late in the season when he
changed the rotation
, but I have news for unhappy Magic fans:
It's working.
Since benching Carlos Arroyo and Keith Bogans in favor of Keyon Dooling and J.J. Redick, the Magic have defeated powerhouses Utah and Miami. And although they've also lost to struggling Sacramento and injury-riddled Toronto in the same stretch, it was through no fault of Hill's.
As I
documented in this blog's introductory post
, the Magic lost to the Kings because they couldn't hit shots when it mattered, nor could they keep Sacramento off the foul line. Brian Hill is not out there hacking Kevin Martin on every play, ladies and gentlemen, nor is he taking the court in a Magic jersey and throwing up bricks like the rest of the team did in Toronto, where they shot just 37.3%. However, in that game, the Keyon Dooling-lead second unit keyed several runs to cut into double-digit leads. It was Orlando's starters in that contest who hurt the team the most. Hedo Turkoglu played his worst game of the season, shooting just 1-for-11 for 4 points. And although Jameer Nelson finished with a late flourish by draining two three-pointers and hitting three free throws after getting fouled on another attempt, he shot just 4-for-12 for the game for 15 points. Further, he struggled on defense, committing 5 fouls.
Although Dooling had a poor shooting game -- he was just 3-of-12 -- he was much more effective at the point than Jameer was. Dooling finished with 6 assists to just 1 turnover in 25 minutes. I have a hard time believing that Arroyo would have been able to post similar numbers.
But that's just taking a micro perspective. When examining the whole season, there isn't a whole lot that's gone wrong that can be directly attributed to Brian Hill. The Magic have suffered through injuries to Grant Hill, Tony Battie, and Trevor Ariza. Hedo Turkoglu has battled a mysterious illness all year. And at the trade deadline, with the Magic in the tailspin, it was GM Otis Smith, not Brian Hill, who decided not to make a move, content with mediocrity.
What I'm asking of Magic fans here -- and maybe it's too much, that's the problem -- is for a bit of patience. I know it's hard, especially this late in the season, especially after so many losses, and especially after the promising 13-4 start devolved, but Brian Hill's lineup adjustments are for the best and the next 13 games will show it.